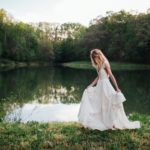 Struggling to come up with wedding decoration ideas? Take inspiration from the seasons! Each one has its own distinct color palate and feeling, which you can easily adapt into an unforgettable special day. Here are a few tips for designing seasonal-themed weddings:
Spring
Spring represents all the vibrancy and promise of renewal and new life, lending itself perfectly to celebrating the new life a couple is embarking upon. To craft a spring wedding, follow these tips:
Focus on bright, spring colors. Whether it's a banner celebrating the happy couple, the color palate of bridesmaid dresses or the linens, try to integrate the colors traditionally associated with spring. These hues can be anything from white to soft pastel pinks, blues and yellow or even lush, rich greens.
Take it outside. Spring is a great time for an outdoor wedding ceremony or reception, weather permitting. With the warm, temperate weather – not too hot or too cold – spring weddings are often comfortable outdoor affairs.
Mix in nature with your decor. Little touches of the natural world can bring an organic, comfortable feel to the event. Consider interweaving fresh flowers, green vines and other botanical accessories into the standard wedding fare like photo booths and table decorations.
Summer
Sometimes you just can't beat the warmth and brightness of a summer wedding. Summer already feels celebratory and people are much more inclined to take time off and travel during the warmer months. To make the most of your summer ceremony, consider the following:
Green bouquets. Instead of opting for the traditional flowers, break the mold by having a bouquet of fresh foliage. Leather-leaf ferns and viburnum berries offer a quirky twist on the traditional bouquet and aren't as quick to wilt in the heat.
Play with contrasts. Sometimes the summer heat can be a bit too much, particularly if you are staging the ceremony outdoors. To offset the natural warms, try integrating contrasting colors to create a unique mood: Icy, cool blues and subdued earth tones can help "cool" down your color palate.
Don't shy away from nostalgia. Just because a couple is embarking on a new journey together doesn't mean that a wedding can't be a celebration of what came before. Consider the summertime activities of days-gone-by and weaving them into your decor. A summer camp-themed reception or a beach party ceremony can play with the idea of fun and sun.
Fall
The fall is a time of incredible beauty and a delight for all the senses. To embrace the autumnal feeling in your ceremony and reception, try these tips:
Deepen your palate. Everyone knows the rich, vibrant colors of fall – reds, oranges and yellows. Use these colors liberally, but don't be afraid to contrast them with earth tones, greens and the traditional white.
Embrace change. The fall is so much more than a season – it evokes the feeling of change and transformation. Embrace this change by designing your decor with colors that slowly and subtly transform, moving from rich greens to yellow to orange to red. This will create a feeling of movement.
Don't forget the leaves! The dried leaves and twigs of fall make for excellent accouterments, affixed to a custom backdrop for photos or table fixtures for that extra dash of fall feeling.
Winter
Winter can be a surprisingly effective seasonal theme, in large part because it's already a celebratory time. Harness the power of the holiday season with these winter wedding ideas:
Wreaths and bows. Embrace the spirit of generosity and gift giving and decorate your wedding with the a few nods to the holidays like green wreaths and red ribbon bows.
Keep it icy, without the cold. Ice and snow can be beautiful, but the last thing you want is to shiver through the ceremony. Instead of using real snow and ice, work in white confetti as snow or rough-hewn, opaque crystal sculptures to simulate ice.
Tree wedding favors. A fun and unique gift and table decoration can be miniature pine trees, with the bases wrapped up like a present. Invite your guests to take the trees home and plant them as a symbol of your new life together.
There are endless ways to evoke the seasons in your wedding ceremony. If you are looking for help designing signage or a customized backdrop for your upcoming nuptials, look no further than Sign Art Etc.