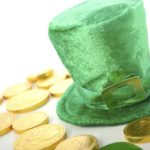 Whether you're Irish or simply Irish at heart, St. Patrick's Day is a great early spring pastime that everyone can enjoy – particularly local businesses who host promotions. While bars and restaurants are typically the big winners on St. Patrick's Day, almost every kind of establishment can see a distinct boost if they focus on hosting can't-miss special events and getting their signage in order. Here are a few ways to create an unforgettable St. Patrick's Day promotion.
Encourage Guests to Get Into the Spirit
This holiday is a joyful celebration of all things Irish, with people regularly dressing to the (green) nines. Encourage your guests to get all dolled up and visit your establishment by installing a photo booth. A custom St. Patrick's Day banner in the booth is a great way to get people to take and share pictures of their outfits — and awarding prizes to the most elaborate costumes can help enhance the fun. EasyPromos suggests running a social media photo promotion where patrons submit photos with the caption "Why I Feel Lucky" to enter into a contest.
Go Green or Go Home
Come St. Patrick's Day, most businesses and brands play with a variety of traditional Irish iconography: four leaf clovers, leprechauns, pots of gold, shamrocks and more. However, there is essentially one thing that unifies all St. Patrick's day aesthetics – the color green. Green is overwhelmingly associated with the holiday, so much so that those not wearing green may find themselves playfully hassled by celebrants! To ensure that your clientele knows your establishment has gotten into the spirit, deck the halls with lush seasonal colors. Green signs, table clothes, napkins, even server uniforms are all encouraged. Any promotional materials – like a custom backdrop – should be printed in green and white to be in line with the holiday.
"Consider the St. Patrick's Day stalwarts: Beer (often green), food and entertainment."
Partner with Local Businesses
Consider the St. Patrick's Day stalwarts: Beer (often green), Irish food and entertainment. While some restaurants and pubs may be able to cover all the bases, others may be able to offer only one of the elements. This is what makes St. Patrick's Day an ideal time to partner with other local businesses to create a comprehensive event. Seek out local breweries, restaurants for catering and entertainment companies to combine forces with and make a single can't-miss event.
Get an Early Start – or Give Guests a Place to Crash
Celebrants of the holiday often take the entire day to do a bar crawl and see the sights. This can be fun – but after several hours of walking and drinking beer, exhaustion can set in. To make sure your establishment isn't skipped, consider starting your event early. Offering a hearty traditional Irish breakfast can attract customers before they set out on their adventures and give them the energy they need to go the distance. If you are looking to get some late-in-the-day traffic, consider tailoring your event to be a relaxing place to crash – with plenty of food, comfortable seating and Irish folk music to give weary patrons a break from the festivities.
Look for the Pot o' Gold at the End of the Rainbow
One novel promotion idea is a scavenger hunt. As Aaron Allen and Associates points out, many establishments hosting holiday events encourage guests to search out hidden prizes like a (figurative) pot of gold. A custom designed sign can come in handy as a way to direct patron attention toward markers they need to find.
This St. Patrick's Day, take the time to make sure your signage is on point. Working with an industry leader like Sign Art Etc is the perfect way to make sure your event stands out. Contact us today to get started.