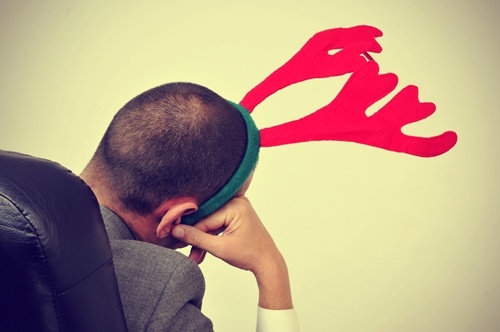 We can easily throw an amazing and inexpensive company holiday party all by ourselves. Everyone in the office will come. We don't need an event planner.
Famous last words.
Bad parties are not only a threat to good taste but to year-end cheer as well. According to the Society for Human Resource Management, 3 out of 10 businesses do not throw holiday parties at all – and that number is on the rise.
When these shindigs fail to attract staff or adhere to budgets, the Powers That Be will shrink next year's spend, limiting options and perpetuating the cycle of yuletide woe. What's the solution? Hire an event planner.
Blowouts on a budget
Has this ever happened to you? You throw a party and it turned out OK. Just OK. But even though the decorations are slapdash, the food is just above palatable and the beer is domestic, you still somehow managed to overshoot your budget by several hundred dollars. How?
Because you don't have the expertise and the connections an event planner does, that's how. Planners thrive on building professional relationships with vendors and negotiating prices. Many have personal experience working in catering, entertainment and the like. These people know how to turn your wildest, most elaborate ideas into party possibilities at a reasonable price point or confined to a prescribed budget.
Hit the favorites, skip the cliches
Once December rolls around, businesses everywhere will break out the same tired holiday supplies as last year: cardboard snowflakes ruined by years of tape, a stack of leftover snowman-shaped plastic plates and tinsel scraps. Yawn.
Instead, trust an event planner. They know what's hot, what's not, what will draw a crowd and what will look best in the background of all your employees' holiday selfies.
Branding branding branding
Speaking of photos, in the age of social media and smartphone cameras, every office party is an opportunity to show off how your business lets its hair down – professionally, of course.
Whether your company decides to gift attendees with holiday-themed branded swag or customize a step-and-repeat banner checkered in its logo, the party planner will handle all the logistics. All you have to do is have a good time, post your pics on your company website or social media accounts, then sit back and enjoy the publicity.
Face it: You don't have time to plan
Perhaps this goes without saying, but unless your business is event planning – in which case, why are you reading this? – you shouldn't pay your employees to call caterers, fill goodie bags and compose karaoke playlists. Their clients probably won't cut them slack for bad service because they were too busy surfing Pinterest boards for gingerbread-flavored cocktail recipes.
So ask yourself: Is the cost of hiring an event planner comparable to the cost of lost productivity? Pricing options vary among planners; some charge hourly, some charge according to a percentage of the total expense and others will settle for flat fees. If you build a budget in advance, accounting for the planner's fee, and ask them to stick to it, your business can avoid creeping costs that parties so easily incur and make out better financially than if you'd asked staff to pitch in.
Usher in 2018 with style – this year, don't forget to incorporate professional help into your holiday party budget. Check out our video below for more information.