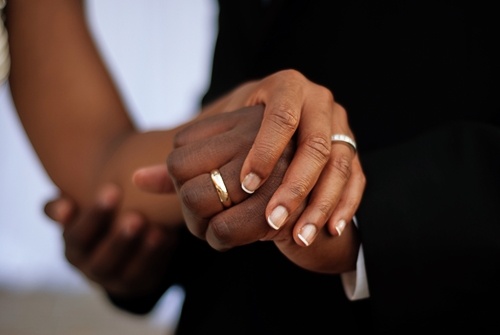 Your special day should be exactly that: a unique celebration of love and partnership, built around the interests and idiosyncrasies of the couple getting hitched. When planning a wedding reception, the more distinct and memorable, the better. Consider these non traditional wedding ideas to bring out the personality and joy in your nuptials.
Set Aside a Lounge Area
Weddings are known for drinking, dancing and cavorting. While this can be fun, it also has the tendency to be exhausting. The Knot recommends cordoning off a lounge area for rest and relaxation, complete with luxurious, cushioned furniture and pillows.
Line the Room With Memories
When planning your decorations, why not offer a trip down memory lane? According to Bridal Guide, one unique wedding reception idea is putting photos of exciting and fun times the couple has shared together on custom banners and/or backdrops is a great way to give your guests a sense of a shared history.
"We hang pictures of the bride and groom with friends and family along the walk from the ceremony to the reception," Northern California event planner Sasha Souza told Bridal Guide. "It's a fun cocktail party conversation starter."
Hire an Artist to Paint the Ceremony
While a wedding photographer is traditional, the fact is that almost all your guests will have their own cameras and probably be taking pictures throughout the ceremony. In addition to hiring a designated photographer, why not employ a painter to capture the ceremony in oil, watercolor or pastels? This way, you'll have an impressionistic, one-of-a-kind souvenir from your ceremony that you can hang in your home together.
Set up a Video Confession Booth
In a variation on the current photo booth trend at weddings, the Knot encourages wedding planners to set up a "video confessional booth." Guests can go into these private booths and record a message for the newlyweds. With a custom backdrop branded with a unique hashtag honoring the newly married couple, these confessional snippets are perfect to share via social media.
Hang an Engagement or Anniversary Piñata
One unique wedding decoration that – with a little bit of planning – could pay off in a big way is an engagement piñata. The idea is that you solicit written well-wishes from all your guests. This is something that could easily occur when your guests RSVP for the ceremony. Fill a beautiful, festive piñata with these written notes, then the bride and groom take turns trying to hit the piñata. Alternatively, you could collect these well-wishes at the ceremony and the couple saves them until their first anniversary.
No matter how you choose to customize your nuptials, the signage experts at Sign Art Etc are ready to work with you to create produce exactly what you're looking for. Contact us today to learn more.