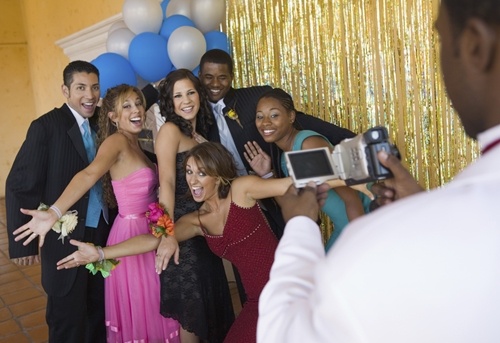 Whether you're looking for  ideas for Homecoming, spring formals or any other kind of academic sponsored social event, planning a school dance can be a challenge. How can you be sure that you've covered all the bases – including entertainment, refreshments, invitations and decoration? Here are three of the most important steps to make the night a success:
1. Form a Committee
A dance planning committee is invaluable to make sure that things get on track and stay there. Ideally, you want a mix of students and school administrators. The students will be able to help guide some of the planning and act as advocates for their peers – throwing in suggestions for themes and music choices. Class officers or club leaders can make excellent student committee members. Meanwhile, administrators will be able to help manage budgetary concerns and contracts with outside parties, like DJs and catering companies.
2. Pick a Theme
A formal dance is nice, but one with a unique theme is even nicer! Have the committee brainstorm a few theme ideas and then poll the student body to see what is popular. The chosen theme will guide how you decorate and also affect other planning dimensions. Here are a few fun, inspired theme ideas:
High fashion. Encourage attendees to put on their best couture and strut their stuff on the catwalk! Rolling out the red carpet, having custom backgrounds for faux-paparazzi photos and even breaking up the dance with a miniature fashion show can be a really enjoyable time.
Island paradise. Create custom banners with lush, tropical island scenes and give all attendees Lai necklaces. Offer tropical punch and Polynesian inspired finger foods.
Masquerade ball. No excuse to be bashful here! Have attendees bring their own elaborate masks – or provide them at the door – to create an ornate event that channels 18th century France.
3. Make Sure the Venue Meets Your Needs
One mistake dance planners make is not verifying that a venue meets their immediate needs. A particular location make be beautiful, but not a good fit. Here are several things that you should always look out for when checking out a venue:
Is the entrance large and open enough to accommodate a crowd? Are exits clearly marked and accessible?
Is there room for refreshments, a DJ booth and photo stations?
Do the lights dim sufficiently for mood? Will you need to rent alternative lights?
Is the flooring a material that will be damaged by dancing in regular shoes?
The goal is to make sure that you have everything squared away before the night comes so that all the students can have the best time. If you are looking for backdrops and banners to give your event a special touch, trust the design experts at Sign Art Etc.