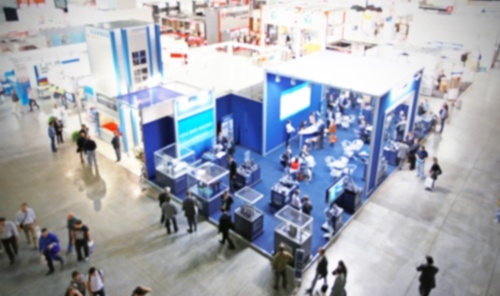 If you're going to be attending a trade show, you know that brand awareness is important. This is an opportunity to make major inroads in your industry, and connect with new clients. First impressions can matter, and if your brand identity isn't prominently displayed, your product may not stand out among the hundreds and even thousands of other participants. It takes a visual tool to help you stand apart.
That's why your trade show booth should include a backdrop with a repeating step and repeat pattern. The pattern can be an image or a logo, and will feature prominently in "red carpet" type photos.
Professional
Whether it's a trade show, convention or product launch event, a quality step and repeat helps promote your business, lends professional credibility and makes for a great background for photo opportunities.
Easily identifiable
Create a memorable image to go along with your booth! Registrants will be able to identify your brand from far and wide. Put your company's logo to work, and let everyone at the event see who you are.
"Every trade show presentation booth should include a backdrop."
Perfect for pictures
Reporters for industry publications are always taking a lot of photos at these events. With a big, colorful banner by your booth, your logo will be all over these pictures, helping to develop brand awareness. Many of these images are used and shared on Facebook, LinkedIn, Twitter and other social media platforms. If your logo and banner are in the background, that's great publicity right there.
A chance to stand out, and get your brand out there
In addition to your company's logo, you can also include a slogan or product name on your backdrop. Whatever words you want to get out there to help spread the word about your company, you can put it on display for maximum exposure.
Choose your size, material and more
Professional backdrops are available in a variety of combinations. When it comes to materials, you can choose from vinyl or cloth. Vinyl is less expensive, but it can wrinkle at times and give off glare. You can choose from a variety of sizes. Just make sure that the image is large enough that it's easily identifiable. The Sign Art team can help you select a design, size and material that works best for you. Get in touch with us today!