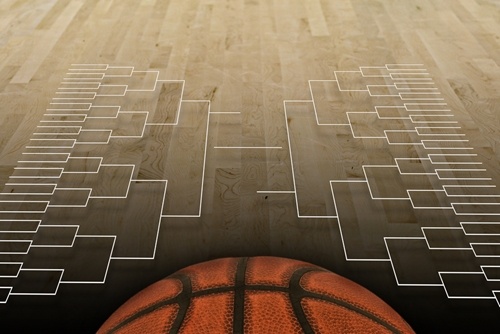 It's that time of year again: March 14 signals the start of The National Collegiate Athletic Association Division 1 Men's Basketball Championship. Commonly known as "March Madness," the tournament goes until April 3 and features 68 college teams going head-to-head.
The championship tournament is a proven boost for local and national businesses of all kinds looking to get in on the action. Whether it's year-round college basketball fans or simply those who enjoy the seasonal competition, creating a marketing or ad campaign to go along with the championship can help bring in customers and attract attention. But making sure your promotion – as well as all the signage that goes along with it – navigates the legal landscape surrounding the championship and the NCAA can be trickier than it seems.
Why is the Championship So Important to Businesses?
To understand why the NCAA tournament is such big business, even for smaller enterprises, it helps to look at how ubiquitous it can be culturally. According to Ira Kalb, a professor at Marshall School of Business, the tournament is essentially a household brand name for sports fans and non-fans alike.
"With a penchant for alliteration, the NCAA has created brand identities for the entire tournament and interim playoffs by giving them names such as March Madness, Sweet Sixteen, Elite Eight and Final Four," Kalb said. "Even non-fans hear these words from sportscasters, late-night TV hosts and comedians."
The way the championship is set up fosters a culture of inclusion: Even if a person knows nothing about basketball – or even sports – they can take part in putting together a bracket, often to great success. Even the NCAA points out that a participant's individual picks aren't as important as the final four team standings, which, when combined with a points system, means that the entire tournament can be a fun and exciting game for consumers – even without ever watching an actual matchup.
This air of excitement and good, clean fun can be leveraged by businesses looking to create promotions, sales or events that are in the spirit of the tournament. However, depending on how promotional materials like signs are designed, this can land a business in legal hot water.
The Legal Challenge
The biggest obstacle when it comes to creating promotional materials associated with March Madness and the NCAA is the the NCAA Trademark Protection Program. This program spells out – in no uncertain terms – that use of "the NCAA's name and trademarks (including the Final Four and March Madness) or any use of NCAA championship tickets in sweepstakes, promotions or contests" is strictly prohibited without the authorization or consent of the NCAA. This means that, when designing materials and signage that evoke the championship, businesses must avoid:
Terms like "March Madness," "Big Dance," "Elite Eight" and "Final Four," which are all owned by the NCAA.
Any logos or images that are directly branded and trademarked by the NCAA.
Appropriating NCAA branded 32-for-32 brackets.
The NCAA is notoriously protective of its intellectual property, which has led to lawsuits over the improper promotional use of branded materials by non-partnered businesses.
Signage Best Practices
Even with these restrictions, business can still tie themselves to the championship in a way that is both legally acceptable and economically fruitful. While the aforementioned proper names may be the intellectual property of the NCAA, terms like "March," "madness" and "basketball" are common words and cannot be trademarked. Here are few best practices to keep in mind when putting together your ad signage and promotions:
Keep It General
Rather than referring to the tournament by its full name – which can be too long – or by its trademarked name – which is illegal, save for authorized usage – opt for general descriptions in your signage. You can use terms like "championship," "tournament," "the big games," "game day" or "the season" to make your audience think of the championship without mentioning it by name.
Soundalikes
​Another strategy is to use names and phrases that might sound like the trademarked terms without using the terms themselves. This can be particularly useful when coining the name of a seasonal promotion that is associated with a certain business. Examples include promotions named "March Radness" – excellent for use in a chic clothing store – or the "Final Pour" – a promotion name for a bar or restaurant.
Take the "Madness" out of March
The NCAA owns the use of "March Madness," but once you separate the two words, all bets are off. You can create signage that advertises "Boot Madness" or "Ice Cream Madness," highlighting a limited-time sale.
Brackets and Baskets
When it comes to your signage graphics, you don't even need to use words to tie your promotion to the championship. While still avoiding NCAA branded logos, you can freely use images of baskets and hoops, generic basketball players and non-branded 32-for-32 brackets. Simply do a quick internet search for free-use images. One innovative idea for tournament signage is to put together your own vinyl banner bracket, pitting some of your most popular commercial items against each other in a fun "championship."
Using a little imagination can help businesses successful navigate the legal hurdles. If your business needs low-cost, high-quality signage to help promote your game-day initiatives, contact Sign Art Etc today.